Sports
Cousin Sal isn't sure what to expect from Cowboys-Rams match up in Week 1 | FOX BET LIVE
Video Details Sep 8, 2020 at 5:47p ET | Lock It In | Duration: 4:11 Clay TravisCousin SalDallas CowboysLock It InLos Angeles RamsRachel BonnettaTodd Fuhrman The Dallas Cowboys open their 2020 season in Los Angeles to face the Rams, and Cousin Sal isn't disappointed that his Cowboys aren't favored to win by more than 3.…
Video Details
The Dallas Cowboys open their 2020 season in Los Angeles to face the Rams, and Cousin Sal isn't disappointed that his Cowboys aren't favored to win by more than 3. He explains to Rachel Bonnetta, Clay Travis and Todd Fuhrman why he isn't sure what he's going to see from this Rams team, but thinks it'll be a close matchup that the Cowboys eventually win.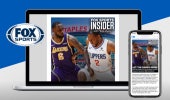 Real Life. Real News. Real Voices
Help us tell more of the stories that matter
Become a founding member
FOX Sports Insider Newsletter
Inside access. Unique perspectives on the daily sports topics that matter most. Right at your fingertips.
Sign Up
By using this site, you agree to its Privacy Policy and Terms of Use.
Subscribe to the newsletter news
We hate SPAM and promise to keep your email address safe